One of the major benefits of having made a batch of basic tomato sauce a couple of weeks ago is that I can now make one of my favorite pasta recipes, bucatini all'Amatriciana, using Mario Batali's recipe.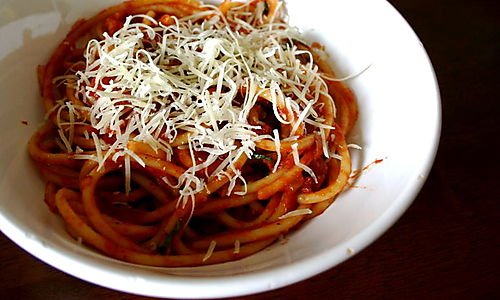 I've been making this dish for a couple of years, after we ate it at local Italian restaurant and loved it. It's a simple dish, at heart, and it can withstand a lot of experimentation & tweaking: I've made it with bacon, as well as with pancetta; I've made it with a basic 28oz can of San Marzano tomatoes, as well as with the aforementioned basic tomato sauce; I've even made it, once or twice, with a pasta other than bucatini.
But I've never been as happy with the Bucatini all'Amatriciana as I was the other night, when I made it with lovely chunks of pancetta and the basic tomato sauce. It was simple, hearty, and delicious.