I've been burger crazy, lately.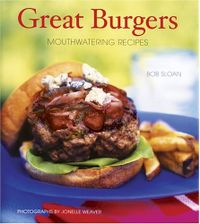 It started last summer, when I made the grilled pork burgers recipe from the Lucques
cookbook--ground pork, chorizo, and bacon burgers, topped with romesco and manchego cheese: yes, they're incredible--but it's kicked in properly over the last couple of weeks, as I've been making burgers from Great Burgers
.
Thus far, our favorite has been the Negimaki burgers, with the Picadillo burgers (which I made tonight) a close second. But the best part is perfecting the mixing, the timing, and the process of making the burger: I like to get better and better at things as I make them more often, and the benefit of burgers is that I can make many variations on the burger whilst still improving the basic techniques.